Local Floods - July 1968: (see also our gallery of flood images)
The worst rainstorm in over half a century occurred this year with more than five inches of rain falling on some areas in less than 24 hours.
The summer had been hot and the fields had formed a hard crust. On the 10th July, the first few drops fell and a storm that started in Brittany France and spread across the whole of southern England came to a climax in the Bristol and north Somerset areas. Brooks and streams became rivers and rivers became lakes as the torrents of floodwater quickly burst their banks and flowed over the surrounding low lying land.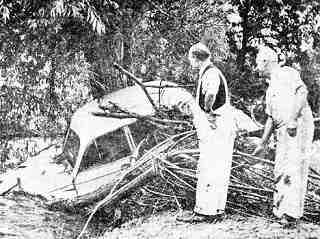 Before the storm abated, seven people were to lose their lives, bridges were destroyed, dams were demolished and hundreds of homes and factories were flooded. Siston Brook, which rises above St. Annes pool, very quickly burst its banks and flooding occurred near Little Brook Farm, Goose Green. More flooding occurred around the Midland Spinner. The water was so high in the lower skittle alley, a chair became lodged in the rafters of the building.
The Warmley Brook, rising beyond Carsons Factory, created a lake that reached from the bridge in Station Road, Kingswood, to well beyond the bridge in Anchor Road. The fields along Tenniscourt Road were flooded and collected debris created a further blockage to the bridge in Deanery Road, making that road impassable.
At Warmley, Crown Gardens had become a collecting point for the deluge which was unable to drain into the brook. That night the ambulance service was called out to rescue frightened elderly people from their bungalows. The village constable, P.C. Doug Hardiman, was almost swept away as he waded through waist deep water.
The two tributaries now combined by the Championís Summerhouse in Tower Road North and the caravan park, being on the bed of Championís thirteen acre lake, once again became awash. Some of the caravan dwellers had to be rescued by rowing boats as their homes were threatened.
Further downstream the rushing tide of water had picked up a massive tree trunk and, acting like a battering ram, had charged into the dam wall at Willsbridge Mill, breaching the banks and releasing hundreds of thousands of gallons of muddy water. The water tore down the valley in a tidal wave, swamping cars and low lying homes to the depth of several feet.
As a permanent reminder of this occasion an inscribed brass plate was erected at the Midland Spinner by landlord, Cyril Hemmings, giving the date and flood level. The plate is opposite the door and about 5' above the floor.